Procedure for Setting Up as a Performer:
Performers are not juried, We do not make advanced reservations for acts. Participation and location is determined on a nightly basis.
Show up on site at the Manager's kiosk behind the arches on Mallory Square two hours and 15 minutes before the time of sunset.

Fill out and sign a registration and release form.

All performers must participate in a seniority based lottery for spots prior to set up.

performers pay a set fee to set up: $20 for large acts and $7 for small acts (individual musicians, balloon twisters, etc.).
Performers who are working at sunset are required to have insurance and list both the City Of Key West and The Key West Cultural preservation Society (that's us) as additionally insured. we recommend InsuranceCanopy.com which is about $24 a month. You can sign up on your smart phone in about 10 minutes, cancel any time. Most standard policies with 1 million coverage are fine. more info about insurance at the bottom of this page.
If you need any further information you may contact via email at sunmail@sunsetcelebration.org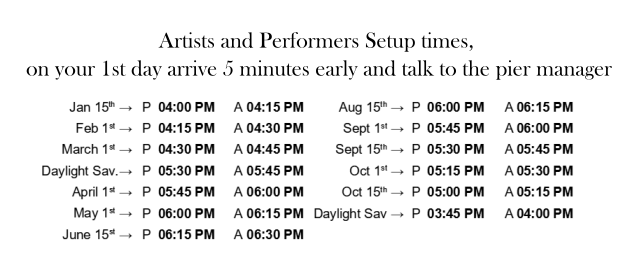 Keep your audience toed up close to your act (it is recommended that you use a rope to delineate your stage area)

Large acts, Regulate your "show" time to a half hour or less while taking at least a fifteen minute break between shows. musicians can play straight through.


Refrain from using profanity, slander or obscene language in your act or towards other participants

Be courteous to spectators, artisans and fellow performers alike

There are two amplified spaces available they are generally taken by performers with seniority. No other amplification is allowed this includes radios microphone systems and any kind of recorded music. The amp ban is because the performance locations are very close together.


If fire is used in an act, a fire extinguisher is required

No potentially dangerous audience participation is permitted

Drinking alcoholic beverages is prohibited

If your act generates a mess, you must clean it up

All performers are to work for tips only- the sale of merchandise related to your act is permitted pending approval by the Participation Committee

There are plenty of spaces available for buskers in the summer. We try to accommodate all performers. There are times of the year when the pier is full and we cannot guarantee a space during these times.
We hope to see you at Sunset!
Insurance info
When signing up for insurance be sure to add us as additionally insured, please use the following emails and addresses. it's very straight forward and simple process to get insurance. InsuranceCanopy.com has it done in a few minutes. You can sign up for an annual policy then cancel when you don't need it.

The Key West Cultural Preservation Society 400 Wall Street Key West FL 33040

Sunmail@SunsetCelebration.org
The City of Key West 1300 White St Key West FL 33040 Sunmail@SunsetCelebration.org