In Memoriam of Mo, Jeep's Performing Dog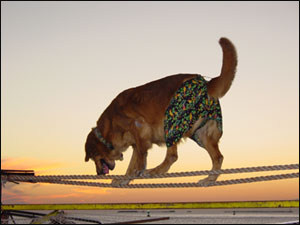 Mo
Mo lived a rich life performing in many cities across America including Aspen, New Orleans, Key West, Memphis and more. In 2002 I took Mo to Burbank, California to appear on at TV show called Pet Star with Mario Lopez on the Animal Planet channel. Mo won the show!
Mo loved her many fans and loved to see them come. She was a wonderful dog.
On January 8th I put together about 15 Jazz musicians and we gave Mo a real New Orleans Jazz funeral. Coconut Kelley made two beautiful island wreaths and at Sunset Celebration after two slow jazz songs one wreath was thrown in the water. We then kicked up the music with the songs Second Line and When the Saints Go Marching In and other up tempo dance music.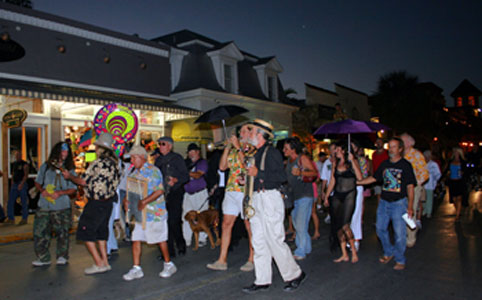 Then a parade of about 100 people marched over to Hog's Breath Saloon. I grabbed a handful of crackers (one of her favorite things to do was to go there after work at Sunset and get crackers from the patrons) then the parade proceeded up Duval St. and over to the Schooner Wharf Bar, which was her favorite place to swim. She loved to do belly busters off the dock there. There we threw the other reef into the sea. We then proceeded over to the VFW post where Danny Butcher had cooked dinner for all, consisting of smothered pork chops, mashed potatoes, fried green tomatoes and mustard greens. It was a great send off and well deserved.
Mo has been featured on the Travel Channel for The 15 Greatest Places for Dogs to Hang Out. Key West was the #1 spot!
JEEP