Hello, my name is Ryan Neal. As of 2004 this is my 4th year in Mallory Square. This however is my 9th year coming to Key West. I have my loving Mom and Grannie to thank for my growth in the performing world. I began twisting balloons at the age of 7. My business "Ryan's DJ And Clown Services" began 5 years ago.

It has grown into Balloon Animals, Face Painting, Clown Acts, Karaoke Machines, Mobile D.J, Kids Karnival (Children's Games), Sno Kones, And Popcorn machines.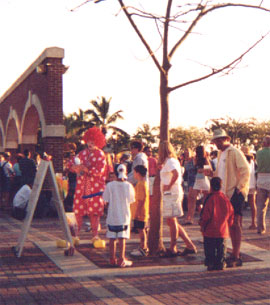 Ryan Performing at Sunset, Key West, Florida
I have also been involved in major roles in local and school plays including "Escape To Freedom" By: Ossie Davis at the Summerville S.C. Little Theatre, And "Holly And The Ivy League" At Westview Elementry School. I also play the Alto Saxaphone. I have been chosen to receive the Silver Presidential Community Service Award, And the National English Achievement Award. I was chosen as a 2003-2004 Duke University T.I.P. Scholar to take The S.A.T. college test in the 7th grade I live in Goose Creek S.C. I can be reached to be booked for parties at (Home)- (843)-824-1307, (Cell)- (843)- 532-8165,

Or at my E-mail address of : Ryanspecialevent@msn.com.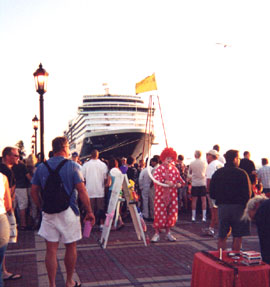 Ryan Performing at Sunset, Key West, Florida
I'd like to thank all of my teachers, My friend Tim Braden and my family. Especially my Mother Faye Neal And My Grandmother Wanda Neal.
Ryan Neal