"A Show, Over Here!"
Sunset Celebration has long been known
---
as a place to go to enjoy some of the fine street performers who frequent Key West, Florida. On any night of the year if you come to Mallory Square Dock a couple of hours before sunset you will find entertainers such as jugglers, tight rope walkers, trained animals, fire eaters, escape artists, and many other performances designed to amuse you.
Festival of Buskers
The acts vary in professionalism and range from traveling buskers who seasonally attend a circuit of fairs and festivals throughout the world to Key West locals who entertain at Sunset nightly. Frequently tourists who are just in town for a weekend will try their hand at putting on a little show for the crowds on Mallory Square. All Sunset performers have one thing in common, they work only for the tips they earn while doing their show.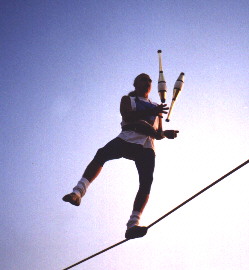 Will Soto on the High Wire
Click Here to see who is currently appearing at Sunset Celebration